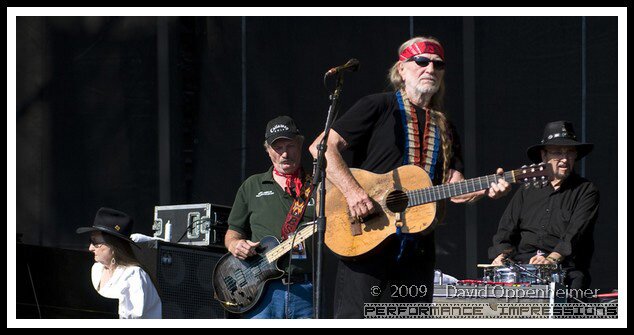 First a word about the elephant not in this room. I love the late Doug Sahm, the musician who best epitomized the Austin scene because he grew up in clubs and could play it all, but you won't find his name in this list because his two greatest bands–the Sir Douglas Quintet and Texas Tornados–were based in San Antonio, not Austin. This is a ranking of bands, not solo artists and the musicians who backed them up, so although Sahm, guitar whiz Eric Johnson, songwriter Butch Hancock, and other true Austin trailblazers fronted some terrific groups, none made this 25-band salute. When you think about the thousands of bands that have made Austin home since the 1940s, a lot of very good groups did not make the list.
While ranking these bands, innovation was an important consideration, as was national prominence. But maybe most of all, these groups were chosen on the basis of how much they contributed to the lovin' cup of Austin sounds we still drink from.
It's different here when it comes to music. In the early '70s, Austin had the lowest cost of living of any of the 100 most populous cities in the U.S. It was also the only city in Texas where you could live without getting beat up for no reason besides your long hair, your measure of masculinity, or your artsy ways. Bands started moving here from all over in the late '60s and they keep coming, though Austin is now one of the most expensive cities in which to live.
So there was a lot to mull. In the case of a tie, I would think about walking into a club without any idea what to expect – just like my first night in town in April 1984 — and each band coming onstage and playing. Who would knock me on my ass or make the neck fuzz tingle? A great band can take me where a thrilling movie or interesting book can't.
Great bands are the best thing about Austin and lousy bands are down there with traffic. So we took 25 great ones, added an "-est," and here we go:
1. Willie Nelson and Family
A brother and sister who've been playing together for 77 years. Mickey on lonesome harp. Paul, Jody, Bee, and the kids who've filled the stages around Willie's phrases in recent years. The classics: one after the other, in virtually all styles of American music. Played with the feel of a bluesman, the adventure of a jazz musician. After moving here from Nashville in 1972, the folk hero and his band established Austin as a town where the music mattered more than the money and the fame. It brought people together. The family? That's you, too.

2. 13th Floor Elevators
With a song Roky Erickson first recorded with his teenage group the Spades, the Elevators pretty much invented psychedelic rock in 1966. The electric jug-percolating "You're Gonna Miss Me" remains the most Austin anthem, "Free Bird" with egg and cheese on a flour tortilla. The band's 1967 follow-up LP Easter Everywhere resonates much deeper than the debut, The Psychedelic Sounds of…, and is considered their masterpiece, but just two years later the Elevators had broken up amid drug-fueled mental feedback. But Roky and the Elevators, a huge influence on Janis Joplin, planted the Austin flag on the national '60s rock scene.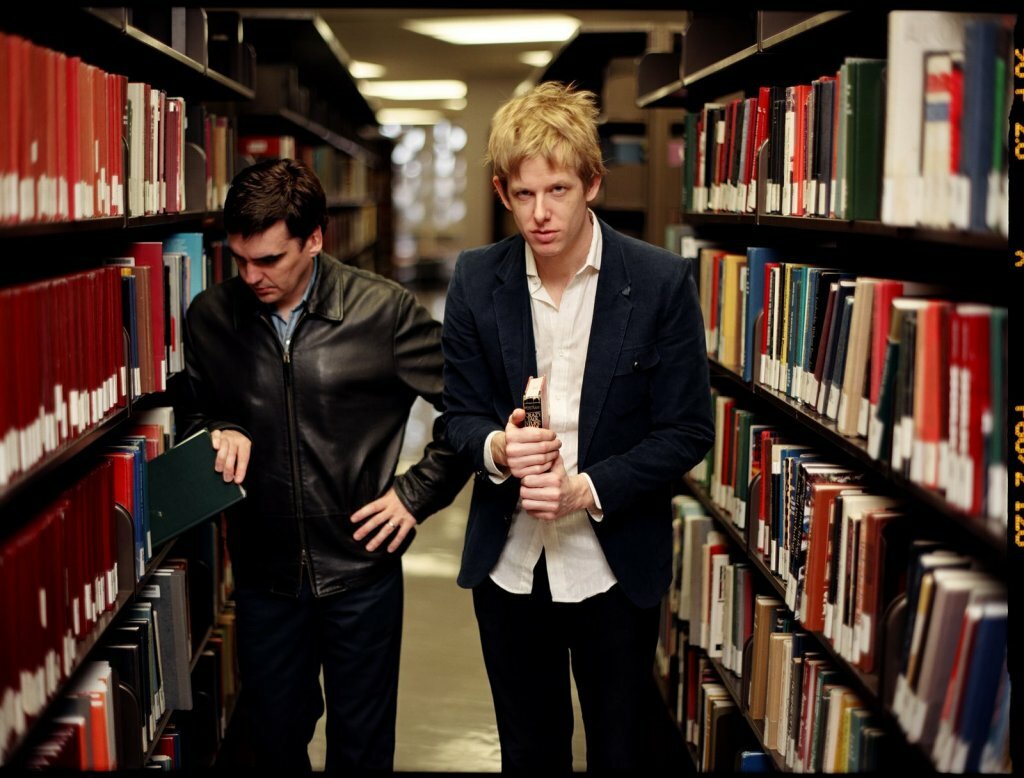 3. Spoon
"Number 3? You're kidding, right?" No Austin band has made better records. When you listen to their Glory Four-  Girls Can Tell, Kill the Moonlight, Gimme Fiction, and Ga Ga Ga Ga Ga all in a row, you marvel at the melodies, the bounce-back, the beat. There's a magic in such songs as "I Summon You," "Stay Don't Go," and a dozen others that no other Austin band can touch. And the albums on either side of the above chronology aren't bad either, with 2010's Transference breaking away from the lalalas and 2014's They Want My Soul bringing it back with a harder edge. Timbuk3 ("The Future's So Bright") and Fastball ("The Way") have had bigger hits, but they couldn't slay 30,000 people at a festival the way Spoon has done over and over again. Austin's gift to modern rock.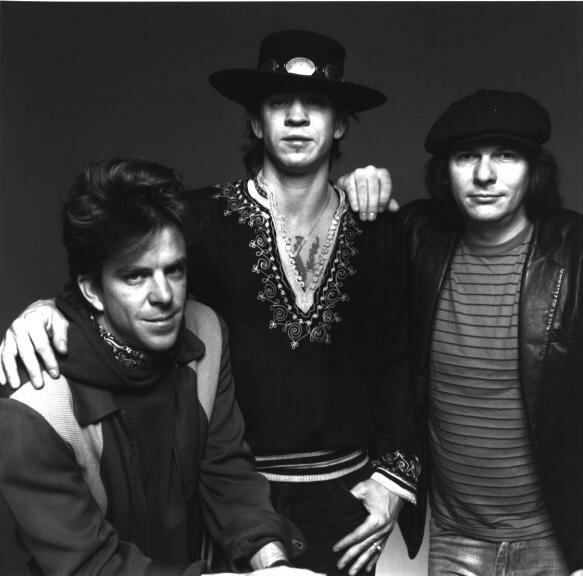 4. Stevie Ray Vaughan and Double Trouble
In April 1983, the iconic bluesman Muddy Waters passed on. Two months later, Stevie Ray Vaughan and his rhythm section of Chris "Whipper" Layton and Tommy Shannon released Texas Flood on CBS Records and the torch was passed. Dressed like he'd been locked in a New Mexico gift shop overnight, Vaughan (along with his battered brown Stratocaster) introduced blues to the wine cooler crowd and made the road more charitable to his idols, including Albert King and Buddy Guy. After giving up drugs and alcohol in 1986, Vaughan helped other musicians like Bonnie Raitt and Ray Wylie Hubbard get sober by doing his best work on 1989's In Step. Didn't need that shit. He perished in a helicopter crash after a concert in August 1990, and anyone who thinks SRV doesn't deserve that statue at Auditorium Shores- or the recent inclusion in the Rock & Roll Hall of Fame- can leave town now.

5. Butthole Surfers
New York had Sonic Youth. Chicago had Big Black. Throbbing Gristle came from somewhere. Texas had the Butthole Surfers, who were not only artful noise sculptors, but crazed characters who seemed plucked from a chainsaw massacre movie. They gave fans more, showing penis reattachment surgery films and bloody car crash aftermath films in the background, and then playing music just as terrifying. There was nothing like a Butthole Surfers concert- before or since. Led by Gibby Haynes and Paul Leary, a psych ward version of Jagger-Richards, the Butt boys and Lady T managed in the madness to record the minor classic Locust Abortion Technician, which couldn't be diminished by "Pepper," the desperate, throwaway hit single that came in the mid-'90s.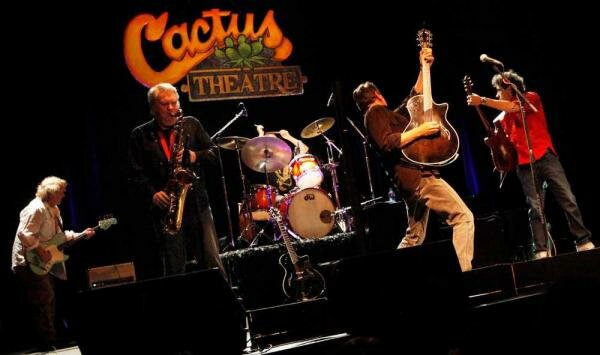 6. Joe Ely Band
There are two sides to this Lubbock-raised songster: the pensive writer and the raging showman. To get to the other side he needed a kickass guitarist, and Joe has had two of the best, Jesse "Guitar" Taylor during his late-'70s / early-'80s glory years touring with the Clash, and David Grissom in the mid-'80s, when Ely's earth-moving live shows cemented his repute as the Springsteen of Texas. There are no surprises at an Ely show, except when Bobby Keys comes out to blow a hole in the ceiling. Surprises are overrated.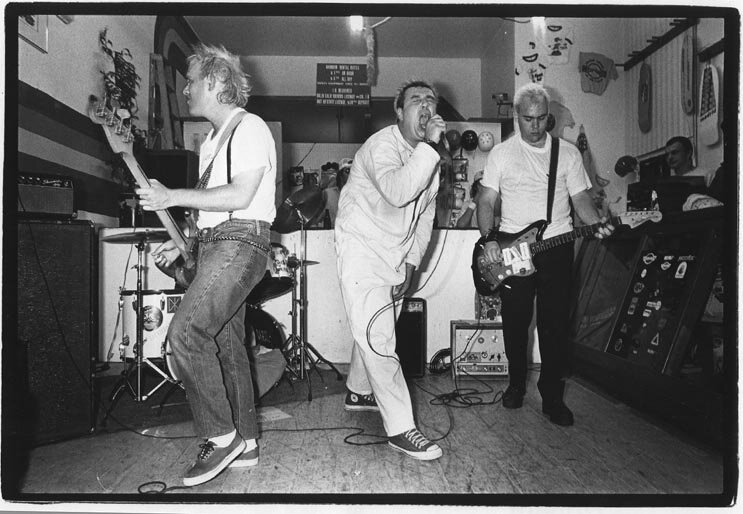 7. Big Boys
After Raul's on the Drag gave bands a place to play in the late '70s, Austin was home to a vibrant punk scene. But no band in town expanded the definition of punk rock like the Big Boys, whose early single "Fun Fun Fun" (the namesake of the annual hipster fest) in the Sex Pistols vein led the way to a more varied sound, especially with the interjection of funk. Mixing punk and funk was their innovation and the Big Boys took it further by bringing in Trouble Funk as their showmates at Club Foot. With singer Biscuit and bassist Chris Gates as the titlemen of the group, which included hillbilly scientist Tim Kerr on guitar and Rey Washam on drums, Big Boys concerts were gloriously chaotic (as when they incited a riot at the 1984 Austin Music Awards), but also powerfully musical. Kerr and Gates would go on to form the severely influential Poison 13 (see "grunge"), who deserve a spot on this list, but there are just too many goddamn bands to consider.

8. Fabulous Thunderbirds
Electric blues started in Texas with T-Bone Walker and settled in Chicago in the 1950's, but the T-Birds, featuring Kim Wilson on harp and vox, Jimmie Vaughan on guitar, Keith Ferguson on bass, and Mike Buck, then Fran Christina, on drums, brought it back home. They came up in the clubs and peaked at Auditorium Shores in the '80s, where their T-Bird Riverfest was the biggest show in town before SXSW and ACL. They even had a top ten Billboard hit with "Tuff Enuff" in 1986. Jimmie Vaughan left the group in 1990 to make Family Style with younger brother Stevie Ray and the T-Birds haven't been quite the same since. But for 15 years they ruled the Texas blues scene.
9. True Believers
If there was a True Believers show that night, it didn't really matter what happened that day. With open booking policies at such '80s clubs as the Beach, the Mark-and-J-Net-era Continental Club, the Hole In the Wall, and Liberty Lunch, there were all these ax wielders ready to step from their REM records to the stage. But none of the so-called "New Sincerity" bands packed a force like Alejandro Escovedo's electric guitar gang with his brother Javier and Jon Dee Graham. They invented the "glamericana" sub-genre by worshipping both the Velvet Underground and Johnny Cash, but their value had little to do with originality and songwriting and everything to do with sheer power. A good Troobs show would pin you to the wall. A great one would make you forget your name.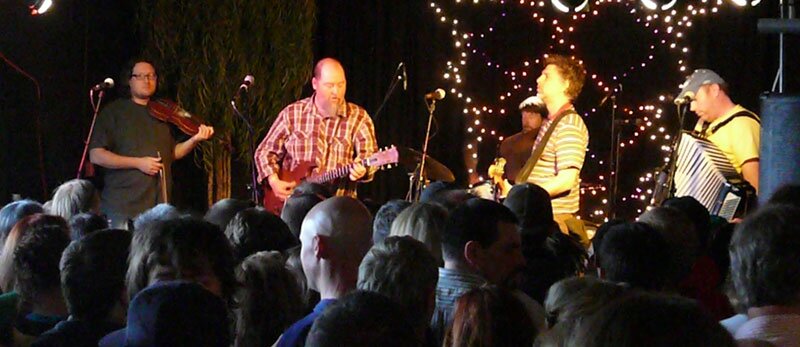 10. The Gourds
The closest Austin's ever come to producing its version of The Band, the Gourds grew out of the Dallas punk band Picket Line Coyotes. The change in musical direction came when co-founder Kevin Russell started discovering ancient roots music from recordings made by John and Alan Lomax in Texas and Ralph Peer in Bristol, Tenn. At the same time, PLC bassist Jimmy Smith was creating his own weird music from scratch. The Gourds' 1995 debut Dem's Good Beeble set a high standard, but the band was merely bubbling under until they recorded a mandolin-driven version of Snoop Dogg's "Gin and Juice" that became a sensation first on Napster (credited incorrectly to Phish) and then YouTube, where it's topped a million views. While the Gourds are currently on indefinite hiatus, Russell and drummer Keith Langford are carrying on in fine fashion with Shinyribs, while Smith and multi-instrumentalist Claude Bernard bring the noise as the Hard Pans.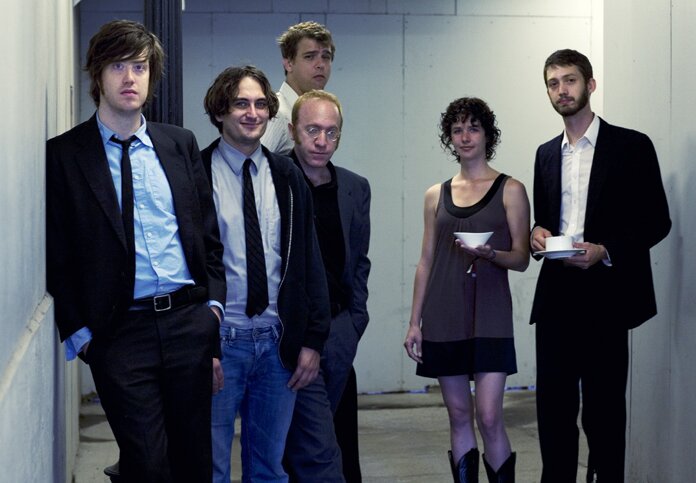 11. Okkervil River
After college, a group of former New Hampshire prep school classmates moved to Austin in 1999 to start a country band. Taking their name from a Russian short story, Okkervil River had humble ambitions: making a record that would be reviewed in the Austin Chronicle. But songwriter Will Sheff displayed real talent on their first LP, Don't Fall In Love With Everyone You See, and by 2005's Black Sheep Boy it was something that had become clear to the Pitchfork set, as well as to icons like Lou Reed and Bruce Springsteen. Okkervil River became Austin's most Brooklyn band and then went themselves one better with the overflowing 2007 LP The Stage Names, which brought "lit rock" headiness to glam rock riffs. Sheff has moved to Brooklyn, but the band makes most of their records, including 2013's Silver Gymnasium, in Austin.

12. Explosions In the Sky
Being originally from the Midland-Odessa area made this leaderless band of sonic brothers perfect for the Friday Night Lights movie, and let's hope they also received royalties from the TV show theme, which copies their shimmering instrumental style. In 14 years together, EITS has made a worldwide reputation for dramatic mini-symphonies that take the listener on an emotional journey. Their 2007 breakout album All of a Sudden I Miss Everyone is grandiose without being pretentious, which remains a trademark whether they're playing on an Adidas commercial or a European mega-festival. They knew they were onto something bigger than the clubs early on, so Explosions have never been too active locally, but this is where it all came together, the sound that has influenced so many soundscapers, so we'll proudly hoist a band whose members we wouldn't recognize at an HEB at midnight.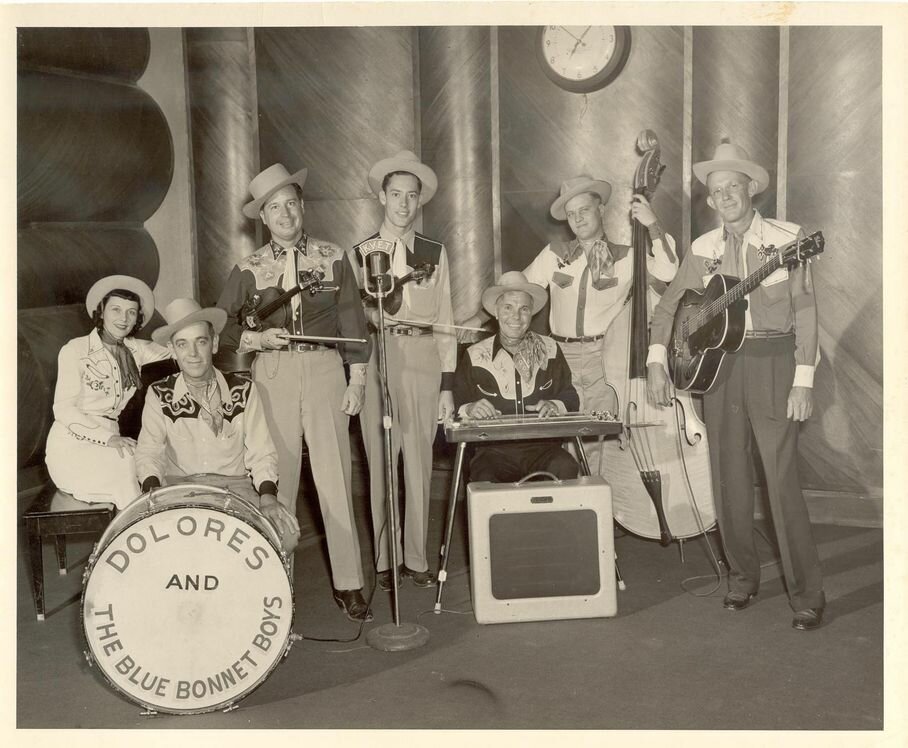 13. Dolores and the Blue Bonnet Boys
In the nine years between the end of World War II and the Elvis Explosion, the Austin music scene was dominated by country bands with names like Jesse James and All the Boys, Doug and the Falstaff Swing Boys, Grouchy and His Texas Pioneers and Buck Roberts and the Rhythmaires. But Dolores Fariss and her Boys stood out because they were that rare Western swing band led by a woman who wasn't the main vocalist. Fariss wrote songs, including the anthemic "Austin Waltz," chose outside material, played piano, and ruled her group of talented musicians like Bob Wills in a skirt. In the early '50s, this band played the Skyline Club on North Lamar three nights a week, and always threw in a couple of polkas for the old-timers.
14. Scratch Acid
OK, they kinda ripped off Nick Cave's early band the Birthday Party, but singer David Yow, guitarist Brett Bradford, bassist David Sims, and drummer Rey Washam turned up the intensity on a new sound that came in loud and clear in Seattle. Scratch Acid, Butthole Surfers, and Poison 13 were Austin's godfathers of grunge. They had a huge influence on Nirvana, Mudhoney, and the like, because it was punk rock rolled in sonic sludge. After moving to Chicago, Yow and Sims continued the SA game plan with Jesus Lizard, which achieved even greater success.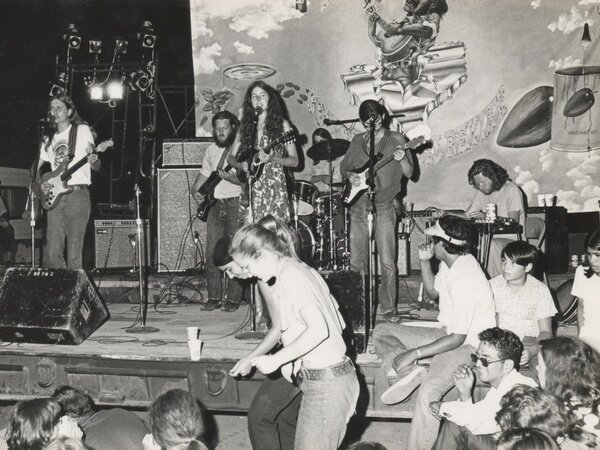 15. Greezy Wheels
We all know that the Armadillo World Headquarters was where hillbilly music and psychedelic rock came together to create the "progressive country" scene, but the true pioneers were Greezy Wheels ("the Grateful Dead of Texas"), not Willie and Waylon, et al. In fact, when Willie Nelson made his Armadillo debut in 1972, Greezy Wheels were tapped to open so that there'd be a guaranteed crowd. They served the same purpose for Bruce Springsteen's 'dillo bow. Led by a trio of mad Hattersleys — Cleve, wife Sweet Mary, and sister Lissa — the Wheels keep rolling today, with a couple of ex-New Bohemians joining the fray.

16. The Reivers
There's never been a more charming Austin rock band. As Zeitgeist, before the legally-necessary name change, the quartet recorded Translate Slowly, a high point of indie rock in the '80s, and became the Great Austin Hope. Vocalists John Croslin and Kim Longacre perfected a sweet and sour interplay, and then you had bassist Cindy Toth with the bangs and Garrett Williams with the drums. They had it all, this perfect quartet, but the world didn't bite, just nibbled, so they split up before reaching ten years old. In 2013, the Reivers released the comeback LP Second Story, and they occasionally play out again — strictly for fun these days.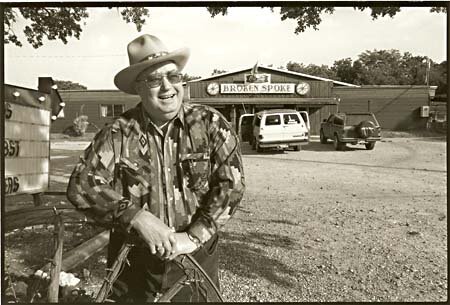 17. Don Walser and the Pure Texas Band
The key word is "pure." Austin is full of country music revivalists, but this town had never heard anything like Walser's majestic country voice, as glorious and wide open as a West Texas horizon. When he started playing a beer joint on Burnet Road called Henry's Bar & Grill in 1990, his yodeling brought out all the hairstyles, from mohawks to beehives. His band at the time included country legend Jimmy Day, who had backed both Elvis Presley and Hank Williams in the '50s. Discovered as a 56-year-old who worked for the Texas National Guard, Walser's story was almost as amazing as his voice and he rated a segment on ABC's Primetime Live in 1996. His greatest honor came three years later when, at age 65, the great yodeler made his debut on the Grand Ole Opry. If you were cool and had a pickup truck in the '90s, you just had to have a Don Walser bumper sticker.
18. Black Angels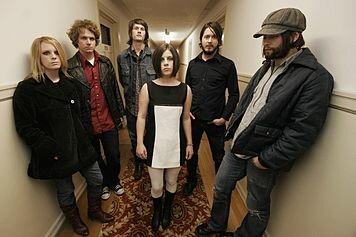 Founders and curators of the annual Psych Fest blowout — the coolest annual musical gathering — the Angels have solidified Austin as the home of psychedelic rock. Starting with 2006's Passover, their four fuzz-toned studio albums bring new shapes and colors to the '60s garage nugget frame, creating a soundscape only as nostalgic as last night's dream. No wonder their evocative music is trailer-made for TV and movies. My fave of their albums, 2010's Phosphene Dream, is like the Beach Boys if Charles Manson had been a Wilson brother.
19. Bells of Joy
Led by the Littlefield brothers, A.C. and Ester, the Bells came out of East Austin and Clarksville — back when Clarksville was a black neighborhood — and had Austin's first million-seller. In 1951, they were signed to Don Robey's Peacock label and recorded "Let's Talk About Jesus," one of the first quartet records with a drum beat. Co-written by KVET DJ Lavada Durst (who was uncredited because he was a bluesman at the time), "Let's Talk" profoundly influenced Ray Charles and Sam Cooke. Austin never gets credit for its role in inspiring gospel's transition to soul, but the Bells, who still perform with newer members, did just that.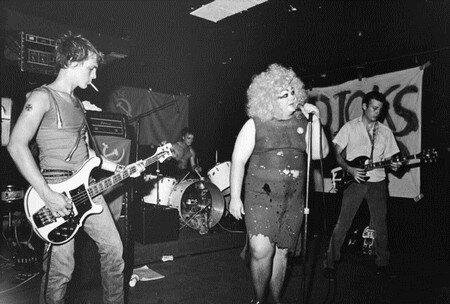 20. The Dicks
It was somewhat fitting that as local punk classic "Dicks Hate Police" played during Dave Grohl's doc on the Austin music scene for HBO's Sonic Highways, Tim Kerr was on camera talking about his band the Big Boys. Somewhat overshadowed in the late '70s Raul's scene by the other punk group in town with a large gay singer, Gary Floyd's Dicks continue to grow in legend as Austin's fiercest band. When these Commies in drag played some dive in Texas, you can be sure that whatever was happening at CBGB's in NYC that night was tame by comparison. Floyd went on to form Sister Double Happiness, a more spiritual haven for his blessed growl, while bassist Buxf Parrot (his real name) plays country punk with the Shooting Pains.

21. The Slades
This white doo-wop group of McCallum High students and alumni was the first act signed to Domino Records in 1957. They were also the only act on Austin's first record label of note to sell any records. Their big regional hit, written by group leader Don Burch, was "You Cheated." But when several national labels tried to license the song, Domino decided to keep it, a decision that badly backfired and kept the Slades from national prominence. While their masters sat in a Los Angeles pressing plant that had overstated its distribution prowess, an L.A. producer assembled a group of black singers (including Johnny "Guitar" Watson), called them the Shields, and cut their own version, which made it to No. 12 on Billboard. When the Slades' original came out a couple weeks later, it stalled at No. 42. Interesting footnote: the singers were augmented by bassist/pianist Bobby Doyle, who then formed his own trio with future country icon Kenny Rogers on bass.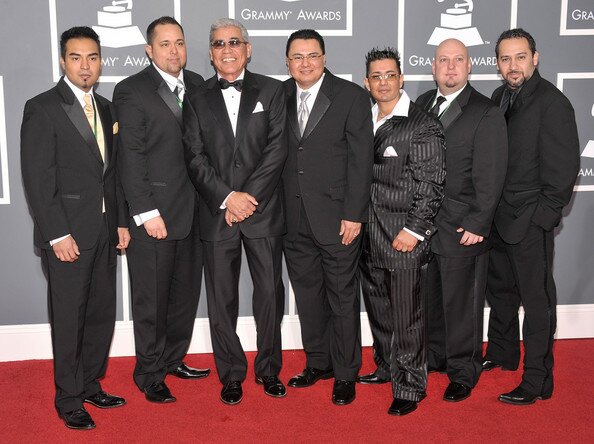 22. Ruben Ramos and The Mexican Revolution
The suave "El Gato Negro" (as Ramos is nicknamed after his '80s Tejano hit) grew up in a musical family, playing drums in his uncle's orchestra when he was just 12. In the late '60s he named his band The Mexican Revolution to show solidarity with the Chicano rights movement and the music took on more political tones. But Ramos is best known for big band party music, keeping a live horn section and accordions when other outfits were switching to synthesizers to cut down on costs. Remaining a portrait of class through the years, Ramos celebrated 60 years in the music business by winning a Grammy in 2009 for best Tejano album. On top of his own band, he's a member of Los Super Seven, which features members of Los Lobos, who are acknowledged fans.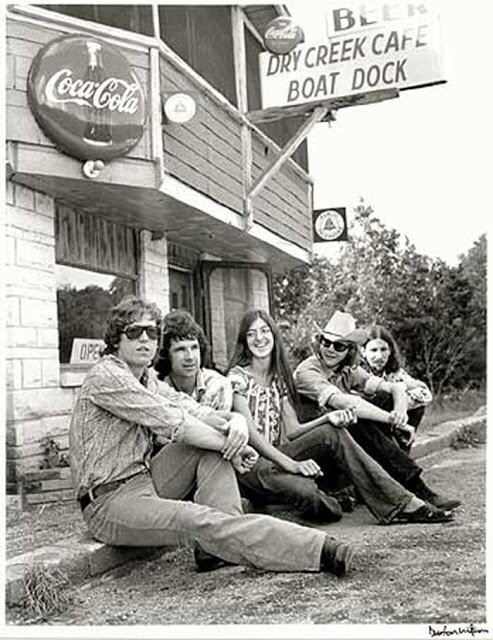 23. Freda and the Firedogs
It's a Sunday night at the Split Rail on South Lamar, just north of Barton Springs Road, and the Summer of Love has relocated to Austin. This is 1972, when bands can rent a four-bedroom house for $250, and there doesn't seem to be much stress in the jampacked joint. A shy, pretty 21-year-old Marcia Ball sits at the piano, while four guys in cowboy hats gather their instruments, and then suddenly the room is full of boogie-woogie piano and screeching steel guitar. Freda and the Firedogs, who recorded an album for Atlantic produced by the legendary Jerry Wexler (see also: Aretha Franklin), were, in the words of Joe Nick Patoski, "the right band, in the right town, at the right time." They also had the real country chops to be the first "hippie country" band to get a gig at the Broken Spoke.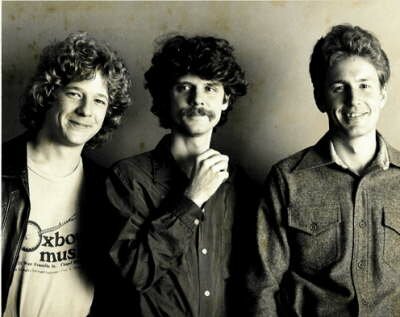 24. Uncle Walt's Band
See "Lyle Lovett." Oh, yeah, Lyle got his whole sophisticated-country deal from Walter Hyatt, Champ Hood and David Ball, but to LL's credit he's always acknowleged that, and championed the trio whenever he could. Formed in Spartanburg, SC, in 1970 and broken up in Austin in '75, Uncle Walt's Band received a mighty second wind after they reunited in Austin in 1978. With three-part harmonies, Hyatt's songwriting and instrumental prowess, and the glorious picking of Hood, who also taught himself the fiddle, this was a world-class band that turned dives into music halls. A much-needed retrospective is on the way, hopefully in 2014.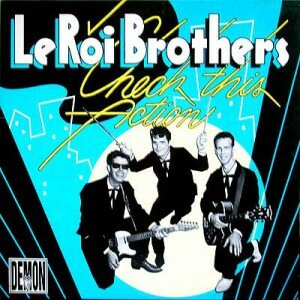 25. The Leroi Brothers
If you moved to Austin in the '80s, your first favorite band was either the Commandos, whose Carlene Carter-fronting Rockpile sound changed the Hole In the Wall forever, or the roots rockin' Leroi Brothers, who had a singers of force in Doerr bothers Steve and Joe, and a succession of great guitarists, from Don Leady to Evan Johns to Casper Rawls. They were signed to Columbia, but only released an EP. Then they were labelmates of Run-DMC on Profile. But the record to get is 1983's "Check This Action," which came out on local label Amazing and was later picked up by Rounder. It's Texas barroom rock at its best and the title track is, next to "You're Gonna Miss Me," probably the greatest anthem for the bands and the fans that do it seven nights a week.
The next 25: Krackerjack, Lavender Hill Express, White Denim, Shiva's Head Band, Poison 13, Conqueroo, Dangerous Toys, Too Smooth, Jesse James and All the Boys, Electromagnets, Standing Waves, Two Hoots and a Holler, the Skunks, Two Nice Girls, the Scabs, Balcones Fault, Cobras, the Sword, ARC Angels, Joe King Carrasco and the Crowns, Poi Dog Pondering, Bad Livers, The Offenders, Damnations, Fastball, Blues Boy Hubbard and the Jets.
The 25 Most Significant and/or Notorious Nights In Austin Music History.