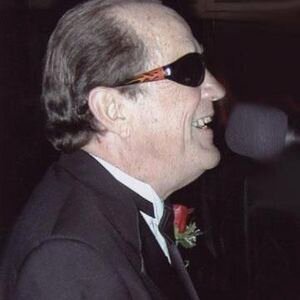 The blue TV at the corner of the bar had the Late Night show on with the sound off because the man at the piano had just started his second set.
David Letterman to country music icon Kenny Rogers: Who's the greatest musician you've ever worked with?
Rogers, without hesitation: Bobby Doyle.
The night that show aired in 1996, Doyle was most likely playing a solo piano set at Ego's, a South Congress dive in the parking garage of an apartment complex. Unlike his former bass player Rogers, Doyle had to work hard for little money, playing five or six nights a week for tips and, sometimes, a small guarantee.
But if Bobby Doyle was bitter, you wouldn't know it. While the rest of the country was going "Bobby who?" this blind man in a jacket too nice for the room, was wailing on a Jerry Lee Lewis number, then crooning "Fly Me To the Moon" with an extended jazz piano solo, then thumping and testifying on "Rugged Old Cross" like it was a Leon Russell number. At times he sang like country Ray Charles and then he'd channel Mose Allison on some blues that wants to be jazz that wants to be blues. It didn't matter that only a couple dozen drunks and floozies were on hand. When Bobby Doyle played, Ego's was as cool as any Greenwich Village basement club.
Who would take fame over talent? Not Bobby Doyle.
It doesn't happen very often, so when it does, it's something you never forget. Going into a club for no real reason and getting blown away by someone you've never heard of. It happened to me at Ego's in 1995 when I went to meet a friend who lived in the apartments. The first thing you realized about Bobby Doyle was that he knew he had IT. There's that old line about someone playing a crappy bar like it was Madison Square Garden, but in Bobby's inward eyes he was playing Carnegie Hall. A maestro's palace.
One man, one mic, one piano: nobody could do it better than Bobby Doyle. Nobody. Yet, aside from a few brushes with fame- appearances in the 1960s on the Joey Bishop Show and Playboy After Dark were highlights- Doyle was a working musician with bills to pay. A man of hire who could light the fire.
"If Bobby was wearing his tuxedo and playing music for four hours, all was right in his world," says Austin pianist Nick Connolly, who met Doyle in the early '80s on the piano bar circuit. Doyle played soft enough for it to be background music, understanding that everyone in the joint was trying to get laid that night, but his romps of soul no doubt made the sex better. "They want (the music) played for them," Doyle told an interviewer in 2005. "Not on them or around them. For them."
Austin is a town full of musicans who never quite make it big as their talent, but nobody was more overloaded with gifts than Doyle, who was a rock n' roll piano prodigy busting out of McCallum High in the late '50s, played the jazz cocktail circuit nationwide and sang for Columbia Records in the '60s, replaced David Clayton Thomas in Blood Sweat & Tears for a minute in 1972 and then spent the last three decades of his career in the piano bars of Austin.
To the mainstream he'll remain a footnote- the man who showed Kenny Rogers the way to a musical career. But to those of us lucky enough to sit so close to that musical force, Bobby Doyle left a lasting impression as a solo artist as intense as any five-piece band. He understood how to communicate a song. The rest is noise.
A heavy smoker, as were most of his fans, Doyle succumbed to lung cancer on July 30, 2006 at age 66. Folks that knew him well, like Threadgill's owner Eddie Wilson, a former McCallum High classmate, said Doyle "was ready to go the day after (wife) Mary died" two years earlier. Mary Cockrill Doyle, who he wed in 1988, was much more than her husband's eyes, providing vocal support near his side at every show. Their interplay made every gig fun.
After putting Ego's on the map in the mid-'90s, it turned into something else, a rock club, and Doyle left for gigs at Eddie V's and the Driskill. His kind of places with his kind of people. He kept playing until he got the diagnosis that his cancer was terminal and became too weak. In March 2006, about five months before his death, Doyle set up a couple mics at his home in North Austin and invited his former musical partner Joyce Webb, whom he met in the '50s when she went to Austin High, to lay down some tracks.
The reason I'm writing about Bobby Doyle today is not because he's expected to be featured in next month's Kenny Rogers exhibit at the Country Music Hall of Fame in Nashville, which opens the day after Doyle would've turned 75. It's because of the recordings Doyle made that day at his house when he was too frail to play gigs. He was known as a song interpreter, not a writer, but his composition "Beautiful" is one of the most haunting songs I've heard in some time. I played it over and over again, that tune about finding a balance between the loneliness that creativity requires and the need for human love. At least that's the way I heard it.
"Beautful" by Bobby Doyle (March 2006 home recording)

Thanks to 91-year-old Fleetwood Richards of Onion Creek, whose association with Doyle goes back to Houston in the early '70s, I was able to copy several Doyle CDs that were never in print, as well as the terrific 1996 studio recording with engineer Spencer Starnes that Mary Doyle sold at gigs. My favorite of the seven CDs is probably "Live From the Roulette Club Houston 1973," which features Doyle and Webb trading lead vocals for the first hour, then the whole quartet- including drummer Steve Kellar and bassist Bob Buelow- singing four-part harmonies on "Their Hearts Were Full of Spring" to close it out. This cover of the 1960 song by the Four Freshmen was the first song played at Doyle's funeral- at the angels' request.
I knew Bobby Doyle as a piano man, a lounge lizard, a soul belter. "Spring" told me I didn't know Doyle at all, so I went searching into details from his life that might piece together some kind of a story. The Austin great was never the subject of a major feature.
He was born in Houston on Aug. 14, 1939 to Edward and Ella Doyle, a carpenter and a housewife. Robert Glen, the youngest of six children, was born blind, an affliction attributed to his mother contracting German measles while pregnant with him. When Bobby reached school age, the Doyles moved to Austin so he could attend the School for the Blind and Visually Impaired on W. 45th St.
Bobby wanted to be like the other kids, so he opted to attend high school at McCallum High, becoming the first blind graduate in 1958. The next year, a school organization that had raised $1,700 for a bus trip to Mexico instead donated the money to Doyle for a surgery that was thought might restore his eyesight.
It didn't and Doyle had to be content with having, what Austin bassist Jon Blondell said was "the ears of a bat." Eddie Wilson recalls Doyle with a transistor radio in his pocket in class, bopping to Clyde McPhatter or listening to his beloved baseball at a volume level the teacher couldn't hear.
Doyle lettered in wrestling at McCallum, and also tried out for the team at University of Texas, which he attended from 1958-60 before dropping out to play music fulltime. "He told me once, 'never let a blind man get his hands on you, because he'll never let you go,'" recalls his old pal Fleetwood. "He was a wiry Irishman, not to be messed with."
Kenny Rogers remembers, in his recent Luck Or Something Like It autobiography, that Doyle struggled with alcohol and once was so soused at a gig in Houston that he snubbed the great Tony Bennett, who had asked if he could sing a couple with the band. "In a minute, Tony," Doyle said, going in to his next number while Rogers and drummer Don Russell shook their heads in apology. "But even at his worst," Rogers wrote of a lit-up Doyle, "he was better than anyone else I'd ever heard."
By the time Doyle formed his trio with Rogers in 1960, he'd already gone a few rounds with rock n' roll. As a senior at McCallum and a member of the school's Talent, Incorporated club, Doyle played a 15-minute set of rock and doo-wop on KVET-AM every Saturday. He was enlisted by fellow McCallum classmates to join the Spades, a white doo-wop group that soon changed their name to the Slades to shake negative racial connotations. Doyle played bass on the single "You Cheated," a regional sensation that reached #42 on the Billboard charts. The song, written by singer Don Burch, would've done much better if a hastily-assembled black group called the Shields didn't rush into an L.A. studio and record a version that beat the original to record shops and radio stations.
"You Cheated" was the only hit on Austin-based Domino Records, the we-can-do-it label which grew out of a class at the YWCA on Guadalupe Street. The night school teacher Jane Bowers, who was a bit of a local bigwig for penning "Remember the Alamo" for Tex Ritter, soon left Domino and took Doyle with her to Trinity Records, which she founded in San Antonio with her lawyer husband.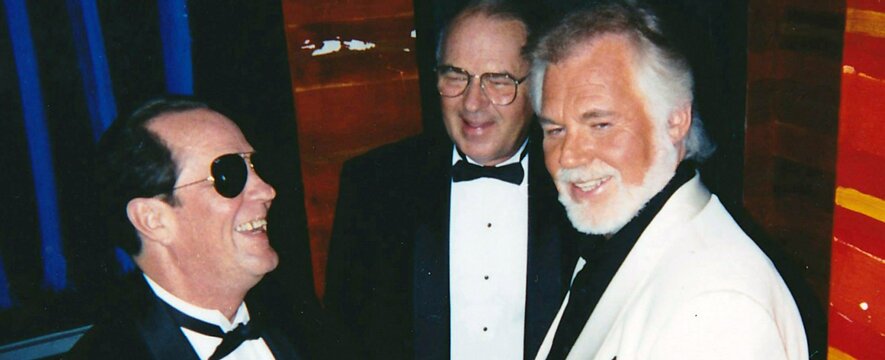 Doyle's single on the label "Here Now" went nowhere and he followed his family back to Houston. There he came to the attention of notorious Duke/ Peacock label owner Don Robey, who had started the Back Beat label to cash in on the rock n' roll craze. Robey's off-shoot hit paydirt with "Treat Her Right" by Roy Head and the Traits, but Doyle was dropped after two singles on the label: "Pauline" b/w "Someone Else, Not Me" (9/59) and "Hot Seat" b/w "Unloved" (3/60).
Doyle used to sometimes compare his diverse musical interests to living in a house with many rooms, so you could say he spent 1960 walking the hall between rock/ doo-wop and vocal jazz. Doyle found Rogers, a struggling singer, in Houston and turned him into a bassist/high harmony singer in the Bobby Doyle Three. Drummer Russell sang as well on 1962's In a Most Unusual Way (Columbia) which sounds almost psychedelic today for its over-the-top vocal arrangements.
It was a style which didn't catch on with the mainstream, though the trio became popular on the cocktail jazz circuit across the country. When they played the Melody Room on Sunset Strip, better known today as the Viper Room, a young actor and piano fanatic named Clint Eastwood was in the audience every night. Before he was known as Dr. John, L.A. session player Mac Rebennack was another Doyle fan. The public had no idea who Bobby Doyle was, but the musicians knew.
"How could you be a player and watch Bobby and not be impressed?" says Nick Connolly. "He could play every kind of music imaginable for four hours and it was all in his head."
After Rogers and Russell left to play in the more popular Kirby Stone Four, still riding that 1958 hit "Baubles, Bangles and Beads," Doyle reconfigured the trio with Webb sharing leads. The new Bobby Doyle Three got a regular gig at a private club in L.A. called the Factory, where all the movie stars and other celebs went so they wouldn't be mobbed. It was the Rat Pack's West Coast haunt, and one night an impressed Sammy Davis Jr. offered an opening gig in Las Vegas.
Connolly says he was watching a documentary about Las Vegas in the 1960s recently when something in a tiny corner of the screen caught him. "They had a 1959 Cadillac convertible with a tripod in the back panning the marquees," he says. "I rewinded a few seconds and paused it. Yep, right there, in a row, were the names 'Frank Sinatra,' 'Buddy Hackett' and 'The Bobby Doyle Three.'"
"Their Hearts Were Full of Spring" by Bobby Doyle Three with Joyce Webb
Doyle was a regular on the Strip and in nearby Lake Tahoe until he, first wife Sammie Lou (a Beaumont native he married in 1961) and their four young children moved back to Austin in the mid-'70s. He got a gig four nights a week playing a Vegas-themed club named Caesar's, which had recently opened at 1907 E. Riverside. After that club closed around 1978, he worked regularly at such joints as the North Forty, the Cloak Room, the Blue Parrot and the Ramada Inn on E. 11th. He was a journeyman with 88 keys in his toolbox.
He also traveled to Las Vegas on occasion for solo lounge gigs. He had flings and fathered a son out of wedlock, which may have led to his divorce around 1980. "Bobby had reconnected with his son before he died," says his former drummer Tommy Laird. "His son was a musician and Bobby went to Vegas to see him."
The pain in his songs became real in 1992 when Doyle lost his only daughter Kathleen to a suspected suicide at age 22. His three sons by first wife Sammie Lou still live in the Austin area, according to friends, but couldn't be reached for this story. Joyce Webb reportedly recently got married and moved away from Wimberley, where she had a stained glass business for years.
Sadly, Doyle's records are all out of print, including 1970's "Nine Songs" on Bell Records, with Steve Cropper on guitar. Recorded at Sun Studios in Memphis, Doyle called "Nine Songs" a favorite of his records, but the Bobby Doyle Three was "the best band I've ever played in." Bobby, Kenny and Don worked their tails off for five years.
Hopefully, some one will put together a proper Bobby Doyle reissue. A career retrospective for a guy who never had a hit and played out-of-fashion music for lonely people in dark rooms. But the musicians knew. Bobby Doyle was always a star among players. When Kenny Rogers flew Bobby to Los Angeles for a 50th birthday show in 1988, producer Quincy Jones was the first to his feet after Doyle's segment, leading a rousing standing ovation.
Bobby Doyle knew he was the shit. That's important. To have that much of a gift and never make it big is better than having only marginal talent and selling a million copies. That's the true artist creed and Doyle lived it to the very end.