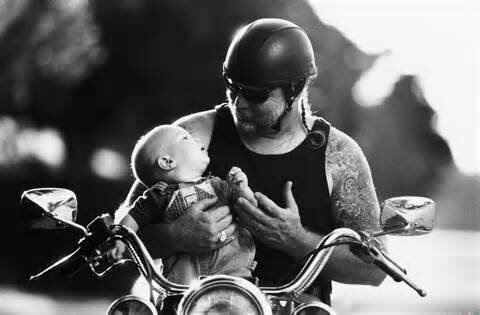 From June 2015
According to APD, Austin has the lowest number of biker gang members, per capita, of any city in Texas: only 50 outlaw bikers in this city of 1.4 million. But not this weekend, with the ROT Rally in town making our pets curse bikers like Waco police. So, let's go over some identification tips on Austin .01 %- ers.
Here's how you know it's an Austin outlaw biker:
1. He's wearing a VEGANS MC patch on the back of his pleather vest. The bottom rocker names which healthfood store he frequents.
2. He "got his wings" by eating an airport breakfast taco at 3 p.m.
3. He cooks crystal in a food trailer called "You Do the Meth."
4. He and his gang were once hired to do security at Old Settler's for all the gingko tea they could drink.
5. One time he was so stoned, he asked, "Remind me again, why am I stomping you within an inch of your life?"
6. He won't go to a Hank Williams Jr. concert because of his politics.
7. He complains that the ROT Rally was so much cooler when it was about new bikers trying to sign with gangs. Now it's all corporate, like the Doritos Bandidos Stage.
8. He rides a Harley Prius.
9. He has nearly 100 'likes' on his "Let's Get Uncle Lucius Booked On 'Austin City Limits'" Facebook page.
10. He volunteered at SXSW, got his badge, and never showed the fuck up!
11. His favorite way to pass the time on long rides is to rate Gourds albums first-to-worst.
12. He helped his MC brother Bird strongarm his way into the Austin barber shop business.