by V. Marc Fort
Armed with a theater degree from UT Austin, El Paso native Andi Teran left central Texas in the mid-'90s for the concrete streets of New York City, searching for work beyond being a prototypical struggling actor. Now her long overdue homecoming brings her back to Austin as a new mother, having experienced two recent births.
Teran's baby boy arrived in late May, and Penguin Books published her debut novel Ana of California on June 30. The proud momma comes to Book People Wednesday July 29 for a book reading, signing, and Q&A (603 N Lamar Blvd.)
"I had a baby and then a 'book baby' within four weeks of each other," Teran recalled enthusiastically, when I caught up with her in Los Angeles during a break from her book tour. "Both are totally new experiences that are overwhelming in different ways. The tour has been a thrilling adventure, not just because I enjoy sharing this book with people in different cities, but also because I've been able to have my husband (fine art/documentary photographer, Hamish Robertson) and baby along for the ride. I love that my child is growing up around books at an early age just like I did."
Ana of California is a coming of age story, dropping into pop culture just as Hollywood has become hip to the gender swap storytelling device. Traditional patriarchal-themed stories are being flipped, allowing the stories of female protagonists to get their own heroes' journey (like Charlize Theron's character Furiosa in this year's box office smash, Mad Max: Fury Road). Teran even subtly noted early on in the novel that her protagonist Ana is from a long line of male-perspective orphan stories featuring Pips (Great Expectations) and Pony Boys (The Outsiders).
Much of the novel's poetic personality comes from Ana's rapier wit and her old-soul-trapped-in-a young-body observations.
Teran's transformation from actor to novelist had a long gestation period. When she wasn't attending auditions for theater, film and television commercial parts in New York, Teran discovered her voice as a storyteller while writing features for MTV, Vanity Fair, Paris Review and various blogs and magazine. A decade in New York passed by before the author realized she was actually working full-time as a writer.
She and Robertson relocated to Los Angeles for better weather and some new, sun-kissed inspiration. The West Coast coalesced into her muse for her retelling of the Anne of Green Gables story. Modernized for the 21st century, Ana of California features a young Latina as the protagonist, recalling Teran's own upbringing in El Paso.
"Fiction and autobiography are somewhat intertwined in regards to the abuela ("grandmother" in Spanish) mentioned in the book," Teran said. "I spent a lot of time in my grandma's kitchen growing up, and those memories flooded back while I was writing my first draft."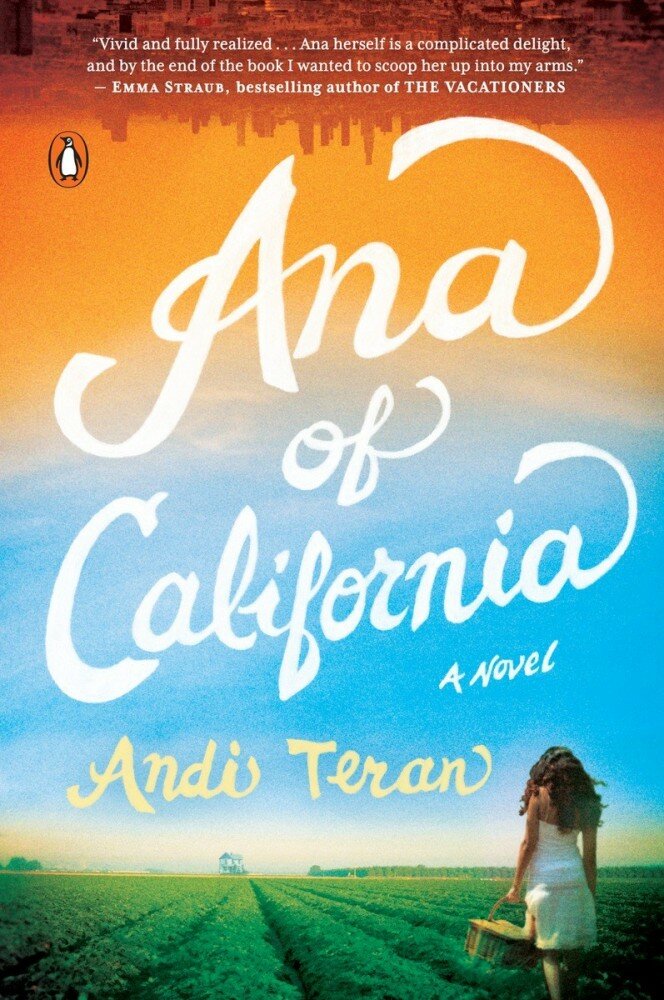 Teran's artistry as a poet weaves its way throughout the text of Ana of California, not unlike the narrative poesy of Zora Neale Hurston's sublime Their Eyes Were Watching God. There are sentences in the novel where Ana's precocious dialogue describes the inanimate world with the grace and motion of animated beings. The moving tree-lined coast of northern California smells, for instance, "like dark velvet – kind of smooth and earthy yet soft with a hint of something undetectable that'll suffocate you out if you inhale too much."
The author's love of music weaves it way throughout the entirety of the novel too. Protagonist Ana loves a fictional band called The Hex, which Teran said is  "an amalgamation of all of my favorite female bands and performers. I wove music lyrics throughout (the novel) from bands that are part of each character's history." The character Emmett Garber finds his spirituality through the lyrics of classic rock favorites, Neil Young and Creedence Clearwater Revival, while the character Abbie Garber is a devoted Stevie Nicks fan, able to quote lyrics that hint at the subtext of her own hero's journey.
Before she started her first draft, Teran created soundtracks for each of her characters. "I can't write characters without having some sort of soundtrack for them. I put together a Spotify playlist for Penguin as part of an online book club kit too."
Teran's time in Austin "definitely inspired Ana's journey and her love of music," she said. "I'm so proud of graduating from UT Austin and for spending so much of my free time living here, going to see rock shows at venues all over the city.
"I had friends in bands, and they all introduced me to different kinds of music. My music library grew exponentially, and I spent several days a week at Waterloo Records hogging up the listening station," Teran continued. "It's crazy to think we've moved beyond that in our current music streaming times, but there was nothing like cramming into a tiny room at (Waterloo) to listen to an album for the first time. I spent many of my nights at places like Hole in the Wall, (the original) Emo's, and Antone's as well as the now defunct Liberty Lunch, rest in peace."